I have been using Progresso Creamy Mushroom Soup for a couple of years, but it has always been hard to find. I would normally buy 5 or 6 cans at a time whenever I could find it at a local store. I recently found an entire end-cap of Creamy Mushroom and French Onion (both gluten-free) soup at the Super Wal-Mart in Longmont. The section was at the front of the store, by the registers, on the food side, so really no where near the soup aisle. Just a reminder to keep your eyes open when you are shopping! I am not sure why they put these two flavors out, or why they were up front, but I was really glad because I wouldn't have gone through the soup aisle looking for them, since they are normally not there. So, I stocked up on both soup flavors! I use the Creamy Mushroom to make Green bean casserole for the holidays. At Thanksgiving my family wanted the "regular" casserole too, so they made the one with the gluten-filled fried onions. Well, my casserole was completely eaten! I love this simple recipe. It requires very few ingredients, but you can always add other ingredients as you wish. Feel free to play around with this very easy recipe.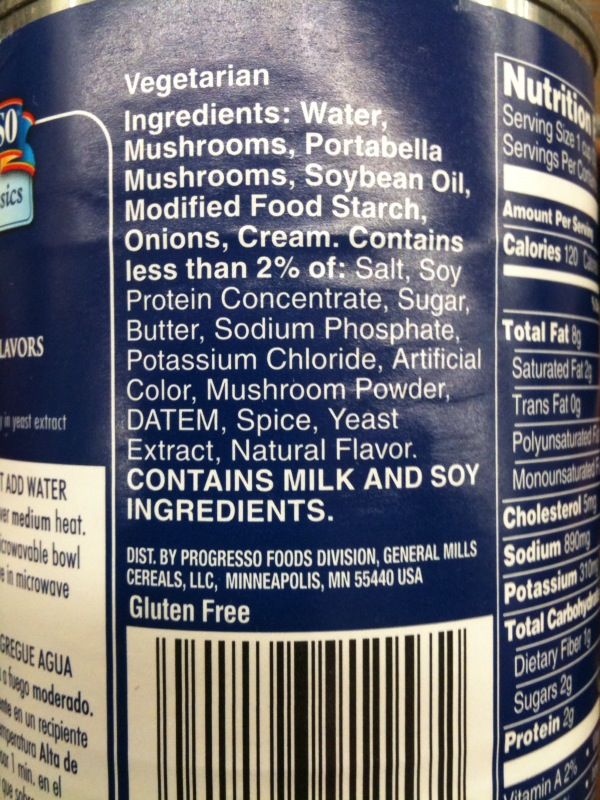 The Progresso Creamy Mushroom Soup has "gluten-free" on the label! The French Onion soup is also labeled gluten-free.
I have a very simple recipe. You can tweak it however you would like, by adding nuts (like shaved almonds instead of the gluten-free fried onions), or other spices. Use your imagination!
Very Easy Gluten-Free Green Bean Casserole:
1 large can of French cut green beans
1 can Progresso Creamy Mushroom Soup (it is not condensed, so you don't need to add liquid).
1  TBS Worcestershire sauce (Lea and Perrins is gluten-free)
Salt and Pepper to taste.
Mix and top with fried onions (see *). Bake at 350 for about 30 min or until warm and bubb
ly.
*Fried Onions– I use plain fried onions from the Asian Seafood Market. 2833 28th St Boulder, CO 80301 (303) 541-9377. They come in a clear plastic container with a red lid and are just fried onions (no flour coating). You may be able to find these at other Asian Markets around the country. You can also check online stores like Amazon (see this listing for a similar product). If you are worried about what you will do with all of the left over onion, consider using it in a meatloaf recipe, topping a salad, or sprinkled on another casserole dish, like chicken and rice. The beauty of the simple fried onion is the light flavor. Enjoy!